Ultrasonic Process Tube Cutter / Welder
Airserco Manufacturing Company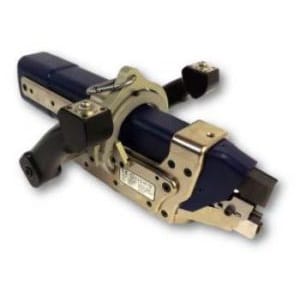 Airserco is proud to offer the URV-20 ultrasonic tube cutter, designed to ergonomically and successfully seal process tubes after charging with refrigerant.  Multiple hand and cutting orientations are available, so that horizontal and vertical tubes may be cut and welded with a leak-free seal.  Cutting from both left and right sides is possible.  Each side is clearly labeled to prevent mishandling.  Process parameters are able configurable and displayed on a nearby control unit.
Advantages over competitors' products:
Less weight
More tolerant of inconsistent tube quality or hardness, for better cuts and seals
Ease of operation
Simple service of wear components
Longer life of wear components
Standard cord / hose length: 15 ft
Warranty period: 12 months, not including standard wear components like anvil or sonotrode.
Please contact us for more information!
We pride ourselves on accessibility and responsiveness. Please contact us with pricing information, or with any questions or comments you may have. Use the form below, or feel free to e-mail us at
staycool@airserco.com
or call
1 (800) 218-1537
.