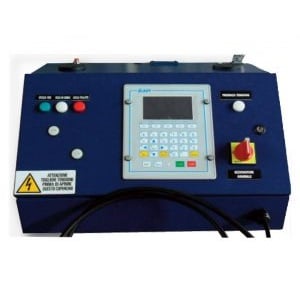 Amiata is a portable test and tracer gas charging station. Specifically, it is designed to conduct pressure tests and leak tests of refrigerating units with the use of inert gas or tracer gases such as helium or nitrogen/hydrogen, according to the ISO 10156 standard. In one variant, a small, on-board vacuum pump allows the user to perform an initial cleansing and dehydrating of the vessel to be tested. Alternatively, a full-sized vacuum pump and sensor may be included to incorporate full vacuum functionality.
Amiata is also able to interface directly with Inficon helium detection products!
In order to ensure correct product selection, please contact us for pricing on the Amiata. If you require an all-in-one evacuation, test gas, and refrigerant charging station, let us know as we can offer these as well!
Additional Specifications
Functional Characteristics
High versatility and portability thanks to compact design
Maximum test pressure 290 psi
Digital pressure and vacuum measurement
Integrated pneumatic vacuum pump (3 cfm), connection to larger external pump available
Setting of working cycle parameters, filing/monitoring and printing test reports by connection to external PC
Bar code reader – optional
50 programmable working cycles
Real-time reporting of process status
CE marked, and built according to the European Machinery Directive
Technical Characteristics
Tracer gas/mixtures (simultaneous): 1
Injectors: 1
Injector Length: 8 ft
Maximum Test Pressure: 290 psi
Pressure Sensor Resolution: < 1 psi
Connection to the unit to be tested: ¼" Hansen F (ISO 7241B)
On-board vacuum pump capacity: 3 cfm (connection available for external vacuum pump if desired)
Programmable cycles 50
Safety valve setting: > 290 PSI (configurable upon request)
PC connection: RS232/USB
Power supply: Several options available, ask us if what you have will work!
Dimensions 22"x17"12"
Weight 75 lbs
Working temperature from 41 °F to 113° F
Optional features and devices
Automatic working cycle selection performed by bar code reader
On-Board printer
We pride ourselves on accessibility and responsiveness. Please contact us with pricing information, or with any questions or comments you may have. Use the form below, or feel free to e-mail us at
staycool@airserco.com
or call
1 (800) 218-1537
.