5054M Refrigerant Cylinder Heater Assembly
Airserco Manufacturing Company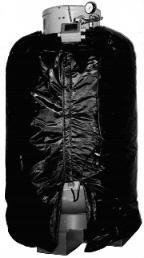 The Airserco 5054M Refrigerant Cylinder Heater Assembly is designed as an easy-to-use, affordable way to maintain sufficient and stable pressure in your 1000lb / 1/2 ton refrigerant tank. It operates on 115v, 60hz single-phase power. The complete assembly consists of:
Control manifold with 3/4″ connection to tank, 1/4″ male flare output, pressure gauge, moisture indicator and pressure switch
Flexible 1200 watt silicone rubber wraparound cylinder heater
Durable quilted insulating cover
The 5054M manifold senses pressure in the tank and, when pressure drops, sends a signal to the cylinder heater element to turn on, increasing the temperature and pressure back to its set-point.  All components also available individually.
We pride ourselves on accessibility and responsiveness. Please contact us with pricing information, or with any questions or comments you may have. Use the form below, or feel free to e-mail us at
staycool@airserco.com
or call
1 (800) 218-1537
.