>
>
iTeide Automatic Refrigerant Charging Station
iTeide Automatic Refrigerant Charging Station
Airserco Manufacturing Company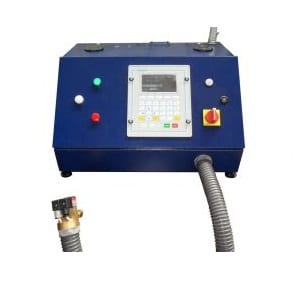 Airserco is proud to offer the iTeide Refrigerant Charging system, designed especially for production line use. Next in line after the Accu-Charge AC-11 and AC-21 series, it is suitable for use with virtually any non-flammable refrigerant.  The System's low maintenance design combined with fast and accurate charging make the iTeide the best value available from a company with more than 80 years of experience in building affordable refrigerant processing equipment. The iTeide uses either a heated refrigerant tank or refrigerant transfer pump to maintain a consistent flow of liquid refrigerant and precisely measures its volume as it flows through. The measurement is converted by the iTeide's computer to dispense refrigerant in the user's choice of ounces, pounds, or grams. 
Refrigerant is processed at a rate of approximately four pounds per minute with repeatability of less than 1%. The menu driven control allows the operator to choose the refrigerant, the desired amount of charge size, and any temperature or pressure variables that may be unique to the users work environment. Password protection for certain fields helps prevent inadvertent or unauthorized changes to parameters. The iTeide's state of the art touch screen processor can easily add refrigerants, so you can keep up with the latest refrigeration trends and regulations.
Options include:
Barcode Scanner
Printer
Choice of connection types (1/4 Hansen, 3/8 Hansen, Schrader, etc)
Data Export Capability
Alarm / status light column
For units capable of both charging and evacuation in a single cycle, please take a look at the Rockall.  Contact us now to learn more!
We pride ourselves on accessibility and responsiveness. Please contact us with pricing information, or with any questions or comments you may have. Use the form below, or feel free to e-mail us at
staycool@airserco.com
or call
1 (800) 218-1537
.