>
>
4042 Pump Cart Evacuation Systems
4042 Pump Cart Evacuation Systems
Airserco Manufacturing Company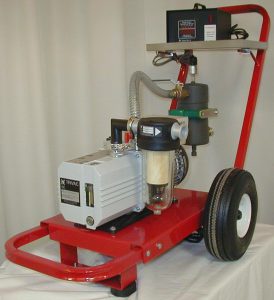 Is your refrigerant charging station sitting idle while waiting for evacuation to complete? Chances are, you need to improve the efficiency of your evacuation process.  The Airserco 4042 series pump cart evacuation systems offer simultaneous evacuation of up to 4 or 6 lines at once, significantly improving production line throughput compared to other methods.
The Airserco 4042 series pump cart evacuation systems are customized to your needs, mobile and highly effective yet affordable evacuation stations.  The base of the system is the 4042 cart.  From there, added options include choice of vacuum pump, optional 4-port or 6-port manifold, one of our vacuum gauges, or even our APC-2 automatic process controller.  We use the highest quality components to construct our products, and design them for optimal efficiency and reliability.
All 4042 configurations are quoted individually, and ship via motor freight on a skid.
We pride ourselves on accessibility and responsiveness. Please contact us with pricing information, or with any questions or comments you may have. Use the form below, or feel free to e-mail us at
staycool@airserco.com
or call
1 (800) 218-1537
.